Value Creation with data: the cost reduction opportunities + Regulation + State of AI
Hello, I am Louis-David Benyayer and you are reading Datanomics and strategy, my weekly newsletter on business strategy in a datanomics era.
You can subscribe to receive in your inbox the next editions.
For this edition, I'll share recent research published, comment news and continue the exploration of the value creation opportunities with data focusing this week on cost reduction.
In the news
Three interesting recent news related to regulation.
Some elements of the discussion at the EU commission for the future Digital Services Act to be released at the end of the year have leaked (see the FT article about it). The ambition of the EU seems clear: curbing the digital giants' powers.

A new episode in the Brexit process: a "pro-tech" plan to rewrite data protection laws is underway in the UK, indicating the desire to make a major move away GDPR regulation. The Guardian concludes: "Without a GDPR adequacy decision, businesses will be forced to organise individual agreements, known as standard contractual clauses. Industry insiders say the extra costs will be crippling for many small and medium-sized enterprises."

The Federal Trade Commission is said to prepare and antitrust suit against Facebook.
Why it matters
In Western economies, the fight between governments or authorities and corporations has become central and digital giants are implementing strategies to limit the impact of regulations. One being, as for taxes, to leverage the national regulation differences.

The impact of these regulations, suits or fines, is regularly discussed. Some critics argue they are inefficient in reducing the power of corporations or they miss their target when giants find ways to circumvent them while smaller companies cannot and pay a higher tribute at the end.

Regulation is exerting a growing influence on the competitive environment. It's not new and some markets were for years influenced strongly by regulation. What's new is the scope of industries concerned by the regulations applied to digital companies, they go far beyond software and "non-digital" industries are concerned (banking, media, pharmaceutical companies, …). Other consequences, the costs associated to follow, influence or abide by the rules are increasing.
Interesting research
Nathan Benaich and Ian Hoghart published their 2020 State of AI Report. It's a valuable synthesis of what happened in research, industry, talent and politics. The whole report is worth reading and I'll focus here on one comment:
The major self-driving car initiatives (Waymo, Aurora, GM Cruise) have all bought LIDAR companies or built their own sensors. That's a clear choice to master one key element of the value chain of AI-supported services: data generation. Models and software are of less use if one doesn't control the data generation.
I will come back to the make/buy/partner decision in another edition.
Value creation: the cost side of the coin
Last week I listed 5 value creation mechanisms of data and analytics from a revenue perspective. Let's now focus on the opportunities associated with cost reduction.
For that, I'll use again the Dupont Analysis framework. It's a description of the operational levers that influence the evolution of the Return on Investment (which is one way, not the only one, to measure value creation).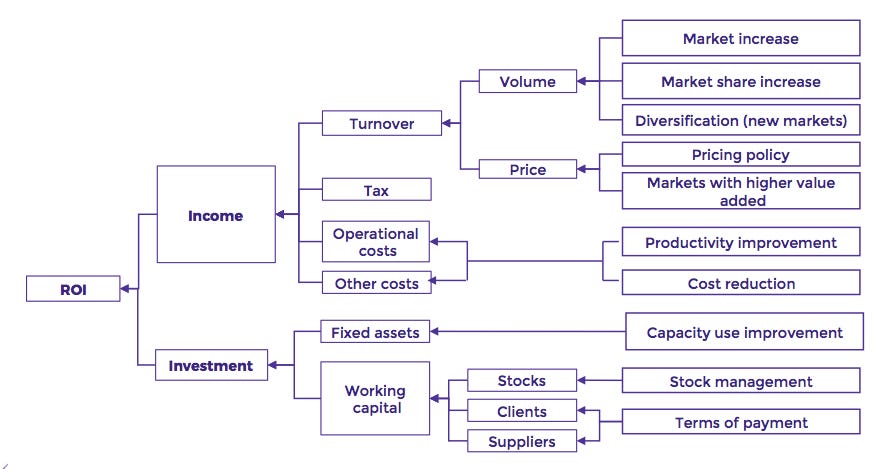 Let's focus now on the lower right side of the graph to see how big data and analytics can influence positively the ROI.
Productivity improvement: automation is a major driver of productivity improvement and data and analytics play a big role in automation. For example, when robots using real-time data are performing human tasks (like scrubbing the floors of Walmart stores) or when software analysing real-time data optimize human labor (detecting product missing in the shelves at Walmart again)

Cost reduction: beyond automation, the other big cost reduction opportunity lies in reducing the impact or the frequency of an unplanned event. Predictive maintenance is a good example and companies like Schindler, Total or SNCF have captured a significant value preventing risks to happen or anticipating better the moment when they happen. This is made possible by the analysis of past data with machine learning.

Capacity use improvement: assets in some industries are quite heavy (think about trucks for a logistics company, specialized machines for farmers, or refinery in oil transformation). With connected sensors, past data analysis and real-time decision making, companies can optimize the use of their assets. For example, optimising the routes of their trucks or sell their exceeding capacity on the market.

Inventory management: it's particularly crucial in retail. The ability to have the right number of product at the right time in the right place is a major cost reduction opportunity (it, of course, plays a role also on revenues). With real-time decision making on procurement and replenishment based on past data analysis and real-time external data (like weather and traffic), some retailers achieved a significant reduction of their inventory while maintaining an attractive merchandising of products in-store.
Like for the revenues-related value creation opportunities, big data and analytics effects are on decision-making processes. Better decision-making can, in turn, lead to improvements in organizational performance. So the two questions you should ask yourself when framing a project:
which component of value creation will be impacted?

what operational decision will be influenced (setting a price, offering a product, changing a part of the equipment,…)?
Personal update
A couple of days ago, I was invited to share my views on the data value chain and the value creation mechanisms. The audience was the executive committee of corporate VC at a world leader of manufacturing. Their current question is deciding on make/buy/partner strategies for the different part of the data value chain.
This is, of course, an interesting strategic question to address and it's the second time this month that I have this conversation with a world leader in his category (last time was in consumer goods).
I plan to discuss that topic in a future edition.
I would appreciate your feedback, just hit the reply button to email me.
Have a good week
If this has been forwarded to you, you can register clicking the button below to be sure you receive the next weekly editions right in your mailbox.